"Mapa"'s* Recommendation of Inbar Country Guest House and B&B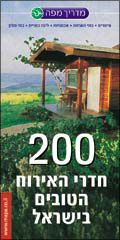 "Hosting is the main activity of all of the members of this small kibbutz (the smallest in Israel, only about ten members!). Inbar's overall approach to hosting is spiritual and holistic as is felt through a variety of lectures and workshops offered by its members.
Inbar's guesthouse, with 18 comfortable and well-kept rooms, is especially suited for groups. Each room is furnished with beds that can be separated and re-connected as needed and a coffee and tea nook and every three rooms share an ample refrigerator.
The Kibbutz is surrounded by the Galilean hills and looks out to the Kineret (Sea of Galilee) and the Beit Hakerem valley. Rambling along the kibbutz's paths, you can always catch an interesting conversation with one of its members.
Number of living units:18.
Check in: 2p.m. Check out: 10 a.m.
On holidays and during the summer, a minimum stay of two nights is required. Accepted form of payment: checks, cash and credit. Every unit is equipped with a private bathroom and shower and a coffee and tea nook. One refrigerator is available for every three rooms. Breakfast included. Smoking allowed. Beds for babies available. Air Conditioned facilities. Accessible for physically impaired. Special extras: lectures on Tao and alternative workshops.
Suitable for groups, couples and singles."
-From "A Guide to the 200 Most Recommended Guest Houses in Israel"
*"Mapa"'s "A Guide to the 200 Most Recommended Guest Houses in Israel" is an Israeli tourism evaluation project that is exceptional in its range and quality. The Mapa Company ('mapa' means map in Hebrew) initiated the project in order to provide the general public with an updated and reliable index on the quality of tourism businesses across the country. The recommendations are given objectively and are not influenced by interest groups. The guide has provided a major contribution to the development of recreational tourism in Israel.